Ask us for a free quote on your new custom bed today

A trundle bed is a pull-out mattress that is stored under an existing bed. It is the perfect spare bed for guests or children's sleepovers.
As well as being comfy, practical and convenient a trundle bed from Beck's Bedding is made to the same high standards and quality as all our bedding and mattresses.
You can be guaranteed a product that will provide value for money.
A trundle bed for holidays and sleepovers
Trundle beds are very popular for use at holiday houses. If you're unsure about the number of guests coming to stay or need an extra mattress for an unexpected visitor a trundle bed is ideal.
Once the guest leaves the mattress can be quickly returned to its storage space under the bed.
They are available in single and king single sizes.
They can be made with a variety of mattress qualities
Visit our showroom
Matching exceptional craftsmanship with a commitment to quality service, all our beds are made here in Australia. Visit our showroom to experience the comfort and quality of our beds and mattresses.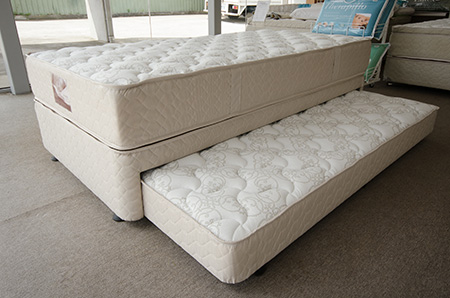 PERFECT REST IS BEST
At Beck's Bedding, we have over 70 years of manufacturing experience and all our mattresses are custom made to order. We understand that everyone is different and not one mattress is best, or suits all. That is why we will make a mattress to suit you! This will help you sleep better and let you enjoy life. Visit our showroom located at 323 - 329 Bell Street, PRESTON and find out how you can sleep better.