Ask us for a free quote on your new custom bed today

Libby gets a new bed from Beck's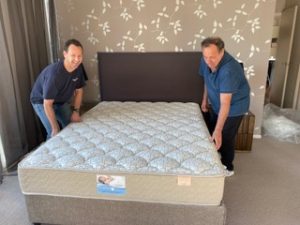 At the end of last year Libby Dale received her new bed from Beck's Bedding. "I was very pleased with the entire experience of buying a bed from Beck's. I found David and Alan very professional and comfortable to deal with."
"From the very beginning I could tell they were committed to their product and ensuring me and my partner purchased the best bed for our needs. I didn't feel pressured to make a decision."
"They delivered the bed and they took away my old bed and delivered it to my son. The entire buying experience was easy and enjoyable"
Since buying the bed Libby has enjoyed a better sleeping experience. Before she got the new bed, Libby was experiencing back pain. But since receiving her new bed the pain has gone. Never to return.
PERFECT REST IS BEST
At Beck's Bedding, we have over 70 years of manufacturing experience and all our mattresses are custom made to order. We understand that everyone is different and not one mattress is best, or suits all. That is why we will make a mattress to suit you! This will help you sleep better and let you enjoy life. Visit our showroom located at 323 - 329 Bell Street, PRESTON and find out how you can sleep better.