Ask us for a free quote on your new custom bed today

Investing in an Australian custom-made bed simply makes sense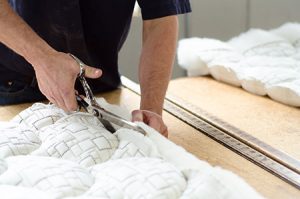 Considering the amount of time you spend in bed, having a well made comfortable bed that is made specifically for you is an investment worth making. Some of the awesome benefits you will experience, include:
One – Better value and quality for money
A custom-made Australian bed and mattress is not as expensive as you might think. Compared to the higher priced off-the-shelf brands made overseas, the price of a locally made custom bed is often more affordable yet provides significantly better quality and value.
A custom-made bed is made specifically for you and your body ensuring more comfortable and restful sleep. The quality of materials is, more often than not, far superior and sourced from local manufacturers rather than being massed produced with cheaper materials. You get to choose your bed from a range of designs, materials and sizes. It's made specifically for you and your requirements.
Custom made Australian beds last longer. Your typical mass produced mattress will reach the end of its life within 2 – 5 years. A custom-made mattress, if maintained well, can last for around 10 years – particularly if it is a double-sided mattress.
Two – Better sleep & health
People often choose a custom-made bed because they have specific bodily ailments that impact their sleep. With a custom-made bed, they no longer have to deal with soreness and body pains because the bed is designed and made with their needs in mind.
Three – More sustainable and eco-friendly
When it comes to eco-friendly mattresses you want to choose materials and fabric that require minimal amounts of water to produce and don't use chemicals like pesticides, or bleach or additives like microplastics. 
Beds made locally, from local organic materials, rather than ones made in Asia, Europe or America will leave a smaller carbon footprint, as they don't need to be shipped and transported.
Four – Support local economy
When you buy Australian-made products, you help to support the local economy. Supporting local businesses keeps the local economy kicking along and with the corona virus disrupting international shipping – many overseas items, including beds and mattresses, will be in short supply.
PERFECT REST IS BEST
At Beck's Bedding, we have over 70 years of manufacturing experience and all our mattresses are custom made to order. We understand that everyone is different and not one mattress is best, or suits all. That is why we will make a mattress to suit you! This will help you sleep better and let you enjoy life. Visit our showroom located at 323 - 329 Bell Street, PRESTON and find out how you can sleep better.